Get 'yo ass down to a true gem of a bar. Tom will be performing a horn of plenty of tune-age. Plus there will be special guests 'n stuff.
Red Hook Bait & Tackle is at 320 Van Brunt Street in lovely Red Hook Brooklyn. www.redhookbaitandtackle.com
Rotary Club is the musical brainchild of NYC guitarist, singer, songwriter Tom Devaney, who along with a few very talented compatriots from NYC and Boston, has been brewing a mix of what one reviewer described as "intensely imaginative melodicism and dazed, yelping Americana" since 2005. Indie zine The Big Takeover described Rotary Club's sound as "Leadbelly, Charlie Patton, and Skip James joining the Band for Meat Puppets covers." Rotary Club have released two LPs: 2007′s Vis-a-Vis and the fresh-out-of-toaster-oven Second Year In Swine.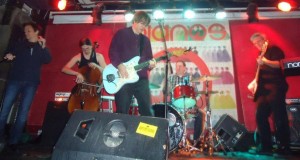 Second Year In Swine
As with the debut Vis-a-vis, Second Year In Swine was produced by ex-Pere Ubu bassist Tony Maimone and features J. Johnson on bass, mandolin and assorted keyboards, Chris Weinberg on drums and Gordon Withers on cello. Mr. Maimone also played bass on Vis-a-vis and has performed live with the group when he can be extricated from the producer's chair at Studio G Brooklyn.
This is what some of those nice music writer types have been saying about Second Year:
…a diverse little gem that is like its own iPod shuffle playlist; you never know what you're going to hear next as Second Year in Swine veers from jazzy interludes and southern blues to wah-wah instrumentals and bright, cheery pop. (This Week In New York)
This album is utterly original and utterly solid. One of the best damn pieces of work I have heard in years. (The Noise Boston)
Here's something different…sometimes resembling the lo-fi work of SEBADOH while other times channeling THE BEATLES more quaint moments, there is a lot of sophisticated instrumentation here that even includes cellos and often delve into an almost Americana feel.(Amp Magazine)
This band's ability to stand on the precipice of abandon, yet maintain the integrity of the song is what makes them intriguing. This is one sharp band and they have made a fascinating record that can only provide even more unique layers to uncover as I listen further. (DC Rock Live)
The New York-via-Boston ensemble mixes a little art with a lot of melody, offering a sound that mixes psychedelic layers with rock attitude and feels like a Meat Puppets/Love collaboration. (The Deli: Music Recipes For New York)
If Wilco raided the Velvet Underground's wardrobe, stole the Kinks' haircuts, and then teamed up with Cursive. (Georgetown Voice – Washington DC)
Fantastic listen. (Weekender)

Second Year In Swine and Vis-a-Vis are available on Bandcamp. Rotary Club is also available on ITunes and CDBaby. And if this isn't enough promotion, don't forget to join Rotary Club on Facebook, because when it comes to the rock, one can never be over informed.

Rotary Club, at one time or another, has featured:

J. Johnson – Bass, mandolin, and all sorts of keyboards.

Tony Maimone – Bass, percussion.

Chris Weinberg – Drums, percussion

Gordon Withers – Cello

Mike Savage – Drums

Jonah Sacks – Cello

Billy Donohue – Keyboards

Mike Lunapiena – Cello