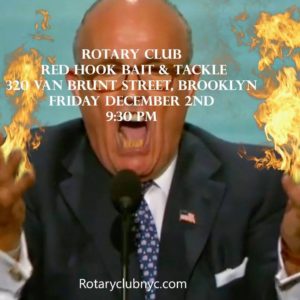 Rotary Club is not done with 2016 just yet! The newly revamped four-piece will be playing at Red Hook Bait and Tackle (320 Van Brunt Street, Brooklyn), our favorite place in Brooklyn, Friday December 2nd. Our buddy Phil Lynch will stop by and play a few ditties from his everything drawer. Show starts at 9:30PM. We'll be playing two sets.
You can check out our two albums, 2007's Vis-a-Vis and 2011's Second Year In Swine right here: Rotary Club Music
Rotary Club welcomes three new Rotarians: guitarist-keyboardist Jamie "Ossey" Osborne, drummer Marcel Negret, and newest member and bassist John Neidhart. We'll be playing all new material and look forward to recording album number three in 2017!