SECOND YEAR IN SWINE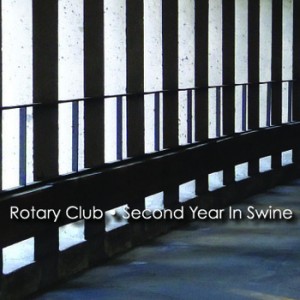 AMP Magazine
Second Year In Swine
Here's something different. Spearheaded by Tom Devaney and a revolving door of musicians, ROTARY CLUB's sophomore disc builds a lot of varying sounds around a melodic rock'n'roll template. Sometimes resembling the lo-fi work of LOU SEBADOH while other times channeling THE BEATLES more quaint moments, there is a lot of sophisticated instrumentation here that even includes cellos and often delve into an almost Americana feel. A vast array of tones, everything from folk-pop to traces of blues and gritty bar rock are explored here. If THE REPLACEMENTS were still around today it might sound something like this. (Tom Haugen)
The Noise (Boston)
ROTARY CLUB
Woodside Records
Second Year In Swine
Tom Devaney (ex-Bulkhead) fronts this exemplary combo, whose take on rock music is a must for anyone who cares about a non-heritage direction for a sadly battered form. The opening salvo, "Get a Room," is tuff-sounding sideways rock ala late Beefheart or Ubu (not too surprising—Tony Maimone produces and contributes to the album). This track features powerful angularity yoked to a spacy undertow. The remainder of the album is very much in the same primo mode; it often sounds like rock transmitted from a slightly different parallel realm, with counter-intuitive melodies and instrumentations which provide a sonic palette that isn't simply more of the same-old same-old. Overall, the production values provide beautiful compression in these valleys of passion. On "Union?", foreshortened riffs serve as a talisman against the void; pleasantly hectoring offside hooks evoke buried intensities. The lush textures on "Millie's Variety" provide continuous soft hits to the brain which prove that anyone can grow up to be prescient. "Kidney Stone" is a brilliantly warpo bit of bent liquescent kosmik folk pop. "Multicolored Rings" is a shamanistic dive into some lunatic pool of slow-motion extasis. The title track evokes a mythic city in which the Let It Bleed-era Stones are free to pursue the psychedelic proclivities to their illogical denouement. "Capsule" is a beautifully inspired ballad that eerily crescendos into an astonishing pronunciato—an unforgettable, out-standing classic track. The second half of "Pluto" is nearly as good. The final track, "Used to Fear Math," is a surprisingly conventional song tendering—get this—good advice! All hail King Blur! This album is utterly original and utterly solid. One of the best damn pieces of work I have heard in years, and a quantum leap from their first effort, 2007's Vis a Vis. It ain't your grandpaw's rock, but it might become your grandchildren's. (Francis DiMenno)
This Week In New York
Among the many ways iTunes and other internet-based programs and websites have changed how we listen to music is by allowing us to create massive, nearly endless playlists of thousands of songs that just keep going. While there are some people out there who still flip over an LP to hear side two or eject one CD to put in another one, most of us double click and just let the music play, and play, and play, sometimes without even knowing the name of the band or the specific song rumbling through our heads. The art of the album has gotten lost in the shuffle. So when we were listening to Rotary Club's new record, Second Year in Swine (Woodside, February 28, 2012), we found ourselves letting the music drift into the next band on our playlist, not realizing it until several songs in. But we are not pointing this out to say that Rotary Club does not have its own distinctive sound; in fact, they play a wide range of infectious indie pop that makes it hard to pigeonhole them into the flavor of the day. And it just so happens that we have taken to that next band on our playlist much as we have taken to Rotary Club, whose self-professed influences run the gamut from Syd Barrett and the Beatles to Love and the Kinks, from John Fahey to Brian Eno and Pere Ubu; to that mix we'd throw in Steely Dan, Thunderclap Newman, Cracker, and Richard Thompson. In fact, their previous record, 2007's Vis-à-Vis, and the new one were produced by bassist extraordinaire Tony Maimone, who has worked over the years with Pere Ubu, the Mekons, They Might Be Giants, Ani DiFranco, Bob Mould, Frank Black, Megan Reilly, and many others, creating his own wide-ranging iTunes playlist. The result is a diverse little gem that is like its own iPod shuffle playlist; you never know what you're going to hear next as Second Year in Swine veers from jazzy interludes and southern blues to wah-wah instrumentals and bright, cheery pop. "You know you want that second cup / of diminishing returns / Determined to repeat yourself / watch your flagship crash and burn / Rewards are worth the work / for these laurels can't be bought / pushed or shoved or slipped / between the cracks / out a welcome that you've worn," leader Tom Devaney sings on "Diminishing Returns," and indeed, multiple listens to Second Year in Swine offer no such diminishing returns, instead providing plenty of rewarding moments. Rotary Club will be celebrating the release of the new album on March 3 at Red Hook Bait and Tackle, featuring former Boston boy and Fung Wah regular Devaney, who plays guitar with a unique finger-picking style, along with drummer Mike Savage, cellist Mike Lunapiena, bassist J. Johnson, and keyboardist Billy Donahue. Oh, and that next band on our iTunes? Actually, we've just circled back to the beginning of Second Year in Swine, starting all over again with "Get a Room," so we can't remember their name right now.
The Deli – Musical Recipes from The Big Apple
"Second Year In Swine" may not roll of the tongue very easily, but mid-fi rockers Rotary Club nonetheless dubbed their sophomore album with the odd phrasing after seeing it on a flyer years ago. Headed by multi-instrumentalist Tom Devaney, the New York-via-Boston ensemble mixes a little art with a lot of melody, offering a sound that mixes psychedelic layers with rock attitude and feels like a Meat Puppets/Love collaboration.
DC Rock Live
Even before I learned about the Boston connection with the chief songwriter, I heard a Sebadoh sound in the opening cut. But Rotary Club sounds far more Type A personalities with the vocal work in their songs. Still, there are plenty of introspective moments on these songs as well. And although this band based out of Brooklyn fits comfortably in the indie rock realm, there are plenty of propulsive songs that twist and turn away from the crowded pack. "Capsule" as mentioned below reminds me a bit of the Pixies' "Gouge Away" but with more restraint. This band's ability to stand on the precipice of abandon, yet maintain the integrity of the song is what makes them intriguing. The band's producer is Tony Maimone, who played bass for the brilliant Pere Ubu, and who knows his way around a studio. Whether he inspired some of the quirky moments here, or (not so) simply knew how to help capture them does not matter as long as they come through loud and clear. I hear urban twists and rural twang working their way together in unique ways (even some Meat Puppets moves in here). A local bonus is that Gordon Withers (of local greats Office of Future Plans) plays cello here. This is one sharp band and they have made a fascinating record that can only provide even more unique layers to uncover as I listen further. And listen more, I shall. Now, if I can stop kicking myself for missing their local appearance here a few weeks back.
Songs to try out first:
Diminishing Returns – Lovely vocal melody with alternating guitar and bass punctuation, and are those tubular bells I hear? This is an extremely catchy song.
Multicolored Rings – Long flowing song with stinging guitars, low rumbling toms, and a strong vocal. The chorus is a nice surprise, too. David Hintz
Capsule – There is that great sense of psychedelic landscape conjured up in this song with moments reminding me of a blending of the Pixies and the Flaming Lips
WEEKENDER – A Fine 'Swine'
Tom Devaney, the mastermind, multi-instrumentalist and mouth behind Rotary Club, plays guitar using only finger picks. The result of that preference — hearing his fingers sliding over the strings — adds a deeper level of musicality and intimacy to Rotary Club's sophomore outing, "Second Year In Swine."
Fun lead track "Get A Room" has rockabilly-meets-blues guitars amid the plush orchestration of Gordon Withers' cello. "Diminishing Returns" features blips of percussion and piano, which adds lightness to the rock-solid guitar, bass and drums.
"Millie's Variety," a heartfelt instrumental with prominent cello and well-placed searing guitar riffs, precedes "Take The 7 Train," an expansive, string-laden 35-second instrumental. Steel guitar twists through the harmonious "Kidney Stone," a standout track so unlike its predecessors, but fits perfectly with them. "With a jeweler's touch, perhaps you've thought as much/ life's no kidney stone passing through," Devaney muses.
Drums keep a lively militaristic beat over acoustic and electric guitars on the slow-building "Multicolored Rings." The instrumental title track features an array of vibrating strings as a cymbal dances in the background. "The Shameful Demotion Of Pluto" features a pulsating, continuous bassline, and the whole song seems to vibrate.
Drumsticks tap dance on cymbals in yet another instrumental, "Cat Piss Styx," as guitar and bass weave steady, complementing riffs. Strings start "Used To Fear Math" before giving way to a low-key rollicking tune. Devaney adopts a slight twang to deliver, "Every now and then, we're bound to lose our bearings and drown in buckets of blues." Where a fiddle would have taken the twang further, a cello keeps the song's original airiness, making it the perfect closer for this fantastic listen.
– Nikki M. Mascali
The Georgetown Voice
Critical Voices: Rotary Club, Second Year in Swine
If Wilco raided the Velvet Underground's wardrobe, stole the Kinks' haircuts, and then teamed up with Cursive, you'd end up with an image of Rotary Club's newest album. The band's experimental, ever-changing lineup packed in a thick sphere of homages on its sophomore attempt Second Year in Swine, but while the LP weaves in plenty of innovative subtleties, Rotary Club's sound plays it safe by catering to fans of major alternative artists of both recent and long-gone years.
In the opener, the groovy "Get a Room," the protagonist lays out complaints against those whom he feels just don't understand love the way he does. Singer Tom Devaney seems to placate himself more than the prudish onlookers taking offense to his PDA as he sings, "lip-locked, luminous, no one can see / Don't take offense to these unruly passengers." Behind his lyrics, a blend of cello, post-Beatles revivalism and French à-go-go challenges the classicism of his imagined onlookers. Later on, "Union?" emulates a despondent Morrissey chatting on about his apathy towards a relationship, but in a Joseph Gordon-Levitt-singing-drunk kind of way. "Misery loves company / And there's a line behind you," Devaney wails.
The album also includes a number of jam-session songs, such as "Millie's Variety," a daunting track with a little march to it and a lot of reverb. Mid-way through "The Shameful Demotion of Pluto," you're stuck with a Television-esque stretch of mathematical bopping. However instrumentally inclined this track may be, the vocals are prominent, and strangely reminiscent of campfire sing alongs.
While the whole of the album varies in style, it has a muddled and adult feel throughout. "Multicolored Rings," touching on this confused middle-aged man theme, has Devaney singing softly, "but don't bleed, don't bleed blue / It's alright, it's alright, blue's entirely fine to bleed." He adds some instrumental variation on "Cat Piss Styx," and manages to pack in thick, bluesy guitars. As well as drawing on heavier, more distorted sounds, a few tracks, including "Capsule" and "Multicolored Rings," play off the late rebirth of folk music.
As a slew of artists are turning to folky roots music for inspiration, Rotary Club's latest effort joins the trend. However, the band also makes sure to include nods to the major outfits that have sparked innovation and led to the musical possibilities at which we've arrived. Second Year in Swine would be nothing without the weirdness of the '60s, the post-punk revival of the early 2000s, or even the broken cage of music induced by experimentalism. Rotary Club caters to nostalgic fans and wannabe hipsters—you'll either enjoy the conglomerate of homages, or you'll appreciate something new.
Voice's Choice: "Get a Room"
FILTER
New York's Rotary Club is a band made up of many ideas and members that somehow converge into one thing. How do you describe that thing? Well that isn't so easy.
Consisting of guitarist/vocalist Tom Devaney (Bulkhead, Betwixt), Mike Savage (drums), J. Johnson (bass, mandolin, keys) and Mike Lunapiena (cello), Rotary Club walks the musical line somewhere between rock, pop and something else not easy to pinpoint. "It's a song from the perspective of someone who engages in aggressive public displays of affection," Devaney explains. "He thinks the people around who are making disapproving faces and saying 'get a room' do so out of a perceived lack of affection in their lives, and that is why they feel uncomfortable." It's probably best to just check out their tune, "Get A Room."
L.I.F.E. Press
Though they've been in existence since the mid-2000s, Rotary Club is an NYC based indie rock band that possess a ragged sound that makes you feel as if you've known them your whole life. They recently released their second LP entitled Second Year In Swine, and I can assure you, it did not disappoint.
Rotary Club has done a fantastic job of establishing their own personal musical style. This is particularly embodied in "Diminishing Returns" and the title track "Second Year In Swine." The mandolins wonderfully blend with the six-stringed electric guitars and finger-plucking. There is a fair share of instrumental tracks, which is always appreciated to be able to hear their skills.
-Bianca Shamim
VIS-A-VIS
The Noise (Boston)
Given that in music, as in art criticism, critics assess (somewhat unfortunately) via pedigrees, I'm virtually obliged to mention here that this collection is produced and features bass by Tony Maimone, formerly of Pere Ubu, and features Tom Devaney (ex-Bulkhead and Betwixt). There is some inte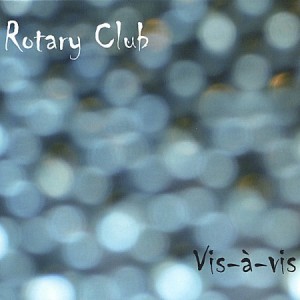 nsely imaginative melodicism and dazed, yelping Americana on display here. Mostly because so many of these songs feature a type of creamy weirdness combined with an arch rootsiness—compare "Manager In Here" with something like "Open the Door, Homer" on the Basement Tapes and you'll have some reference for pinning down the sound, which is playful, yet tunefully fragile and often melodically halting in a strangely seductive way, as on "Bounty." The musicianship—this I was expecting—is brilliant. Arrangements and textures are superlative. Nor are hooks neglected out of avant-garde bullheadedness: "Literate Shoes" sounds like a psychedelicized version of Dire Straits; the title track channels "Marie's the Name" and The Soft Boys, maybe. But mere comparisons simply don't, can't, won't do this justice. Believe me: this belongs on every new music-lovers must-have list.
The Big Takeover
Tom Devaney was a Boston indie guitar-rocker in Betwixt (with Gordon Withers, who released an LP of Jawbox covers on cello), Jack Frosting, and Shimmy Disc's Bulkhead. This decade he's a reinvented Queens good guy making his "solo" debut. Having been produced by Kramer 13 prior, here he hooks up with the equally estimable Tony Maimone of Pere Ubu for production and bass. And though old bandmates keyboardist J. Johnson and drummer Chris Weinberg reappear (bussing from Beantown to Brooklyn for Maimone's sessions), Devaney plays appealing oddball acoustic folk-pop with accents of 80-year-old Americana country and blues. He cites Mississippi John Hurt, Ray Davies, Syd Barrett, and Love as loves, but this writer's thinking Leadbelly, Charlie Patton, and Skip James joining the Band for Meat Puppets covers. Devaney's thin, reedy voice fits his weirdo roots music, though one Western instrumental "Circuitous Goldstein" (like "Ghost Riders Meets the Sky" meets "Me and My Uncle"), and a more straightforward pop-tune, "Manager in Here," are standouts.
TimeOut NY
"Folky, passionate indie-rock act Rotary Club is the brainchild of New York City singer-songwriter Tom Devaney. The band, which includes former Pere Ubu bassist Tony Maimone is playing behind a catchy and subtly quirky disc."
Tony Maimone (Pere Ubu, They Might Be Giants, Bob Mould)
"This is one of the best records I've ever played on."