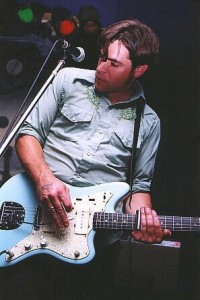 The Beginning
From the late 1980s to the late 1990s, Tom Devaney was a founding member of Boston post-punk mainstays Bulkhead (Shimmy Disk), Betwixt (Archenemy Records) and the short-lived Jack Frosting. He left Boston and music in 1999 for the pearly gates of graduate school. After a two-year stint at UMass Amherst, where he earned a masters degree in city planning, Devaney arrived in New York on the not so fortuitous date of September 1, 2001.
After a three-year sabbatical from music courtesy of a demanding consulting job and interminable commute, Devaney eventually landed a less stressful job in 2003, which instantly increased his creative opportunities. With vague ideas of melding Brian Eno's Another Green World, John Fahey's The Transfiguration of Blind Joe Death and film soundtrack work, Devaney began cataloging acoustic guitar instrumental and synthesizer pieces on a 1970s tape recorder.
Up Off The Couch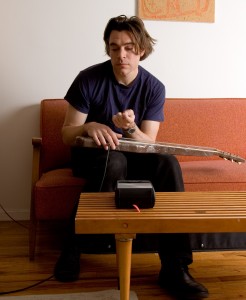 In 2004, working with former Betwixt and Turkish Delight drummer Dave Nelson under the name Rotary Club, Devaney recorded a decidedly lo-fi five-song demo on his trusty analog four-track and sent cds to three NYC clubs with the hope of re-entering the live music circuit. After two deflating open mic appearances, Devaney received a call from the booking agent at the now defunct CBGB's Gallery who asked if he'd be interested in performing at the club. This connection led to a year-long engagement of monthly shows at the Gallery, giving Devaney the opportunity to try new ideas and develop material. After a year of solo performances in NYC and Boston, Devaney reconnected with drummer Chris Weinberg (The Vestrymen, Jack Frosting, Betwixt) and multi-instrumentalist wiz J. Johnson (Jack Frosting) and formed a three-piece version of Rotary Club.
A Fruitful Connection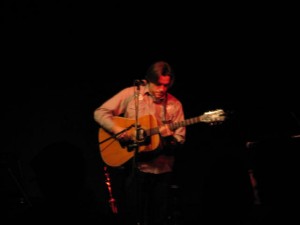 In 2006, at the behest of a friend, Devaney sent a demo of his four-track recordings to ex-Pere Ubu bassist, now producer, Tony Maimone, at Studio G in Brooklyn. A long-time Pere Ubu fan, Devaney was delighted when Maimone expressed interest in recording Rotary Club. "The songs have a Syd Barrett thing going on", Maimone opined at the time, "but it's American, very American".
With Devaney living in New York and Weinberg and Johnson remaining in the Boston area, band rehearsals posed a logistical challenge. Over the next few months, the carless Devaney became very familiar with the various low-budget, NYC-to-Boston, Chinatown bus lines.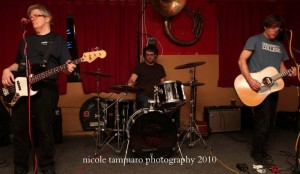 While Devaney's Fung-Wah frequent flyer miles accumulated at a corporate executive's pace, Rotary Club was reduced to two members when Johnson was forced to undergo wrist surgery, which put him on the disabled list for three months. To make matters worse, Weinberg's marriage was on jagged rocks, and rehearsals were often fraught with domestic distractions typical of acrimonious denouements.
Undaunted, Devaney and Weinberg rehearsed throughout late 2006 and early 2007, and entered Studio G in March 2007 to record basic tracks. Despite never having actually rehearsed any songs on the instrument, the plan was for Devaney to overdub bass guitar once drum tracks were completed. This unrealistic plan changed abruptly when the night before the session, Maimone booked the band at a Williamsburg rehearsal space and met them, bass in hand, prepared to learn all the songs in two hours. Later that evening, when Maimone left the rehearsal for a brief bathroom break, an excited Williamsburg rock dude entered the room and asked if that was Tony Maimone. "Yes, that's him," Devaney replied. Scanning Devaney and Weinberg with a look of incredulity bordering on dismay, the dude then asked, "Who the hell are you?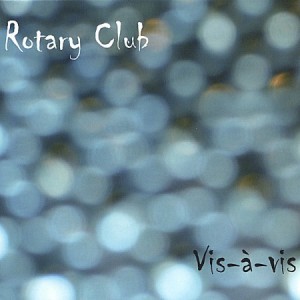 Vis-a-Vis
The basic tracks for Vis-a-vis were recorded in three days. Despite the fact that Maimone ran the sound board while playing bass, there was little need for many punch-ins. Semi-recovered from wrist surgery, Johnson managed to complete keyboard and mandolin overdubs the following month. Guest cellist Jonah Sacks finished his tracks during the same session. The record was officially released in November 2007 and a five-piece version of Rotary Club performed the record in its entirety at shows that same month in New York and Boston.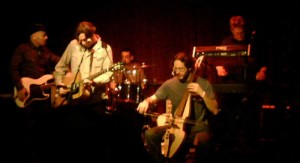 Vis-a-vis garnered a fair share of glowing reviews (see our review page), and the band continued to perform in one incarnation or another over the next two years.
Second Year in Swine – Album #2
Following the release of Vis-a-vis, Devaney again found himself with a demanding consulting job. This time the stakes were as high as the stress level. He knew he would have to maximize any semblance of creative opportunities in order to continue writing songs. But these opportunities would be few and far between. Especially when a mental breakdown was not out of the question.
Fortunately, the self-immolation never occurred, and gradually new songs began to emerge.  By mid-2008, Rotary Club was performing new material as a three-piece with Johnson switching to bass.  A year later thoughts of a new record began to come into focus. Devaney once again found himself riding the Fung-Wah to Boston for rehearsals. After a rigorous six-month rehearsal schedule, the band returned to Studio G in December 2010 to record once again with Tony Maimone.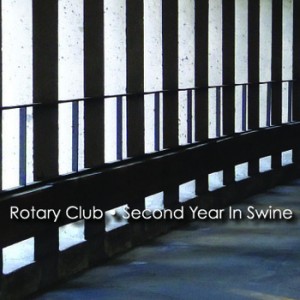 Recorded and mixed over a six-month period, Second Year In Swine was released in November 2011. Maimone captures the band in an expansive mode. While acoustic guitars are not completely abandoned, Devaney's fingerpicked, electric six-string and lap steel explorations, Gordon Wither's brilliant cello work and Johnson's Hammond B-3 and mandolin add a depth to Swine only hinted at on Vis-a-vis.
Entering 2012, Rotary Club has been performing Second Year In Swine with an expanded line-up featuring new drummer Mike Savage (Fudge, Cherry 2000, Tom Leach), Billy Donahue (Vestrymen, John Cale, A Thousand Pities) and cellist Mike Lunapiena.